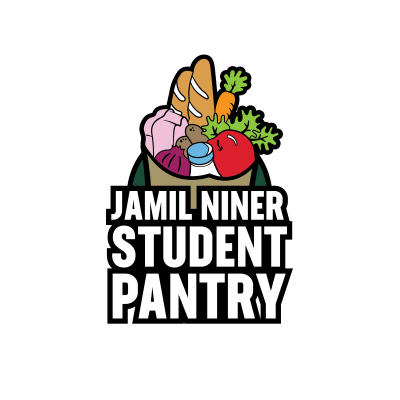 Food Insecurity Statement
The Jamil Niner Student Pantry provides food assistance to UNC Charlotte students and employees experiencing food insecurity. The U.S. Department of Agriculture (USDA) defines food insecurity as a lack of consistent access to enough food for an active, healthy life. Our pantry offers a variety of nutritious non-perishable and fresh foods on a weekly basis to currently registered UNC Charlotte students and to UNC Charlotte employees experiencing food insecurity. 
Inclusion Statement
The Jamil Niner Student Pantry welcomes everyone in our Niner Nation community regardless of race, age, gender, nationality, family or immigration status, ability, religion, or sexual orientation.
Scheduled appointments minimize the number of people in the pantry at one time. If you are more than 15 minutes late to your appointment time you may not be allowed to shop and receive a to-go bag instead.
Schedule a Shopping Appointment:
Schedule your appointment for the week using the Food Pantry Request page at the top of the site. The form opens every Sunday morning at 7:00 a.m. Click on the Food Pantry Request tab and login to Food Pantry Helper select your appointment time.
Enter the Jamil Niner Student Pantry's front door at your appointment time. Be ready to show your 49er ID card at the check-in desk. Friends must wait outside the pantry as only those with scheduled appointments will be allowed inside. 
Address: 1224 John Kirk Drive, Charlotte NC.
The pantry is a brick ranch-style house located next to the Edge Apartments and accessible for students commuting by car or foot. Please enter through the front door at your scheduled appointment time. 
Parking: Shoppers may park in the gravel parking spaces or along the driveway behind the house. Handicap parking is available. If you need special accommodations please email Sofia Mejia and our team will be happy to assist you.
Additional Services
Get Involved
Listed below are additional community food resources:
Some food pantries require a referral. Call 211 and state that you need food assistance. Ask "how do I get a referral and if possible, can you provide me names of food banks that don't have this requirement."
Contact Us:
Email Sofia Mejia at smejia5@uncc.edu.